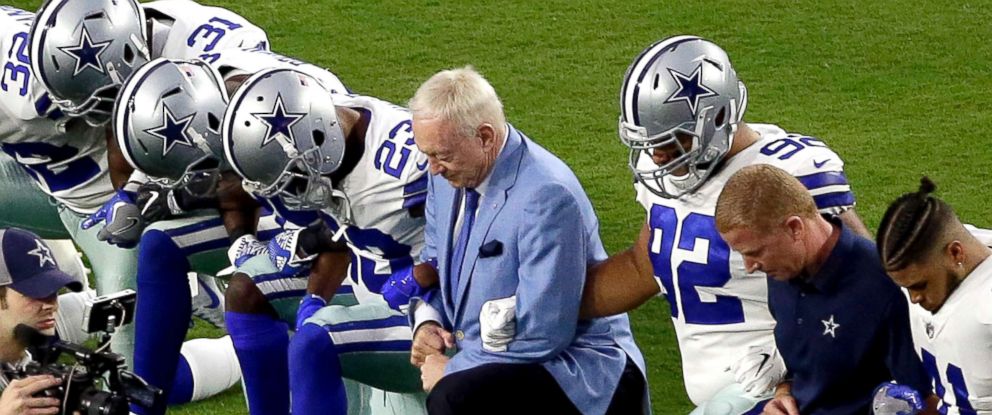 This morning I woke up to Google trending sports news controversy. Last night game was good, well at least to me because I'm a Dallas fan lol. Dallas beat the Arizona Cardinals 28-17.  But just watch the highlights and you'll see for yourself.  But the game wasn't the big talk last night, what happened before the game was the real highlight.  Last night the Cowboys came out with their coach Jason Garret, owner Jerry Jones and other coaching and staff members and ALL took a knee during the singing of the National Anthem.  Due to controversial lyrics in the National anthem teams are making statements like former 49ers quarterback Colin Kapernick basically saying they are tired of unfairness and harassment by policeman.
Everyone and their mother has an opinion on this situation. Some say that this display was entirely disrespectful to our history and tradition while others say that it was a display of heroic stand up guy but ironically on bended knee.  This act towards the flag was first set off by Kapernick last season and it cost him his job. U do have to respect a man that will die for what he believes in.
Over the past few weeks with all the controversy happening in Texas, Florida and Puerto Rico I feel we still have to stand as a country.  I may not agree with all Donald Trump tweets and rants but he does have a point when he says Make America Great Again.  Our ways as a people has changed for the worse morally. No one seems to have no good sense anymore and whenever u do the right thing but the wrong thing happens just because. Then everyone tells you that YOU were wrong for doing the right thing and their all caught up in politically structured systematic way of  life.  WTF!  I got my own mind and good damn sense fool lol.  Please tell me what u think in the comments.
After all that I'm kinda worked up and ready to get to work, so its time to hit the iron room.  Today I'll do some NFL similar work with a lot of push and pull movements.  Check out my boy Pat Johnson and SUBSCRIBE to his Youtube channel, if u want motivation then just look at this dude hit the iron room.  Truly excellent form with passion, drive and explosion in his every lift.  This video of Pat is some similarity to big ass NFL training, Pat your an animal bro.
But at the end of the day I'm still glad Dallas won lol!  Good training to all, and to all a good fight!!!
–
| Exercise | Sets | Reps |
| --- | --- | --- |
| | 4 | 6-10 |
| Standing Front Military Press | 4 | 4-10 |
| Bench Press | 4 | 6-12 |
| Incline Dumbbell Press | 3 | 4-10 |
| Single-leg Romanian Deadlift | 3 | 5-10 |
| Dips | 3 | 6-10 |
Share and Enjoy
Posted in: Uncategorized | Tags: arizona cardinals, bench press, colin kapernick, Cowboys on knees, dallas, Donald trump, football, google analytics, google news, google sports, incline bench, incline dumbbell press, jason garrett, jerry jones, make america great again, National anthem, NFL, police harassment, president trump, romanian deadlift, trending news, tweets, twitter